Formani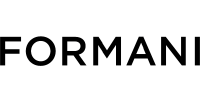 Formani is a global luxury brand in the field of architecture hardware; various fittings in various styles, including lever handles, pull handles, window handles, cabinet handles and bathroom accessories. Their mission is to supply innovative, exclusive and top-quality products to form the perfect detail for high-quality interior designs worldwide.
Formani products are available in different finishes: satin stainless steel, PVD satin stainless steel, polished stainless steel, satin black, PVD satin black, PVD gunmetal, bronze, PVD satin bronze, white, PVD satin gold, PVD polished copper, satin nickel, PVD satin nickel, bright nickel, brass unlacquered. Some items are combined with natural wood: oak and ebony.

Formani finishes

Formani has many different product series in their range. Please see the product catalogs here:

Formani ECLIPSE NEW! reddot winner 2021

Formani ARC

Formani INC
Formani door handles are suitable for european (DIN) standard locks (also for Bonaiti magnetic locks).
Some models and finishes in serie Basics are available also with Scandinavian (SC) fixing. Contact with us to get more information
Modern door handles are recommended to use with concealed hinges and Bonaiti magnetic locks. For a perfect result we suggest to use door handles, locks and hinges in same or similar finishing.