Bonaiti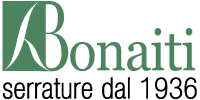 Bonaiti Serrature is an Italian lock producer whose history is based on the lock and its evolution. They were first company who designed and produced magnetic lock and who has been doing it already more than 20 years.
Thanks to a magnetic latch, shutting and opening a door is now quieter than it was ever before with traditional locks with zinc latches. An addition to its ease of use, the lock has gained popularity with its amiable appearance – the striking plate as well as the lock itself is fully sunk into respective surfaces, thus eliminating any protrusive parts and making the lock system an integral fitting element in harmony with the door.
Please see the product catalog here:



Bonaiti
Bonaiti magnetic locks and strikers are presented in here: magnetic locks
We suggest to use magnetic locks with modern and minimal concealed hinges. For a perfect result we suggest to use door handles, locks and hinges in same or similar finishing.