Mandelli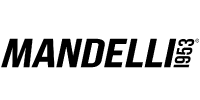 Mandelli is one of Italy's oldest and prominent manufactureres whose products are esteemed for their quality and and wide selection of different models and finishes.
Please see the product catalog here:

Mandelli
Mandelli door handles on round rose are suitable for european (DIN) and scandinavian standard locks (also for Bonaiti magnetic locks and Abloy, Assa etc locks).
Modern door handles are recommended to use with concealed hinges and Bonaiti magnetic locks. For a perfect result we suggest to use door handles, locks and hinges in same or similar finishing.
Classical handles are recommended to combine with S.A.B. classical locks which are available in wide range of different finishes.