Our company is open for visits Mon-Fri 8.15 - 15.00 and for collecting of the ordered goods from warehouse 2 hours longer until 17.00
Lock case MC KOLIBER with front plate WC6/55/20x1,5 HME
In Stock
Product code:
ULU KOLIBER WC6/55/20x1,5 HME MC
Surface:
brushed satin brass
Price (incl VAT):

8.76 €

6.08 €

Unit:
piece
Description:

Lock case is suitable for european (E) fastened handles and wc-knobs-

Suitable for interior doors.

Can be locked with an euro lock core.

Lock tongue: plastic

Front plate width: 20 mm

Back-set: 55 mm

Interax: 72 mm

WC-knob spindle: 6x6 mm

The wood screw mounting on the lock case is covered by a magnetic front plate.

The manual operation of lock case can be changed.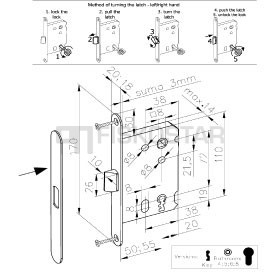 ▲