Our company is open for visits Mon-Fri 8.15-15.00 and for collecting of the ordered goods from the warehouse 2 hours longer until 17.00
Abloy has expanded its hinges range by long-waited product!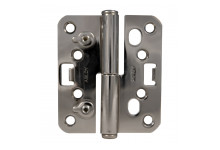 Abloy hinges come in a variety of size, load capacity, adjustability and finish. The wide range of models has been further enhanced by adding of an adjustable brushed stainless steel door hinge.
Stainless steel adjustable door hinges are suitable for timber doors, where besides the possibility of adjusting, excellent surface finish is also desired for a representative appearance.
The product code of the adjustable hinge in stainless finish is:
---
▲