The roller latch RL4238 is now available with black front plate!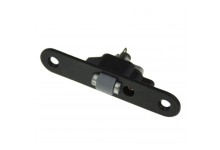 The code for roll latch in black finish is: RL4238/100 Fe/MU
The roller latch is suitable for use on interior doors where the use of a traditional door handle and lock is not desired . The product is also suitable for use on sauna glass doors, on the frame side.
We recommend using fixed knob or pull handles for doors with roller latch.
The RL4238 latch bolt can be adjusted by means of the screw in the front plate.
---